HECKENRADIO, COMMON GROUND(s) & PACHAKAMANI

On Tuesday May 30th, we take over again the FM stream of Colaboradio/FR-BB for 18 hours, broadcasting from 12:00 (CET) until 06:00 of the following day. We start at 12:00 live from Berlin Neukölln at the Spore Institute with Radio Otherwise experimenting on a HECKENRADIO. The program will go on until 20:00, and will be followed by a live transmission from West Germany in Kreuzberg initiating a series live concert / broadcast / recording curated by Tony Elieh and Niko de Paula Lefort, with the performances of Carla Boregas & Marina Cyrino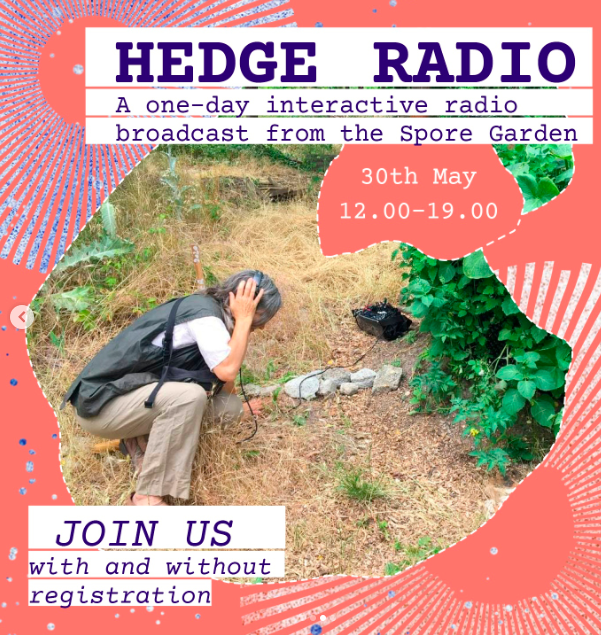 HECKENRADIO
Together with Kate Donovan, Monai de Paula Antunes and Niko de Paula Lefort from Radio Otherwise, Spore Initiative is organizing an open radio studio in the Spore Garden for one day. Through a live broadcast which everyone can participate in and bioacoustic experiments throughout the day, the aim is to make the various human and more-than-human voices heard in the garden, cemetery, and adjacent sites such as Tempelhofer Feld. Plants, insects, birds, compost, neighbors and experts will have their say.
For Radio Otherwise, thinking and doing radio otherwise means focussing beyond purely anthropogenic transmissions, recognising relationality within the spectrum of more-than-human radio ecologies.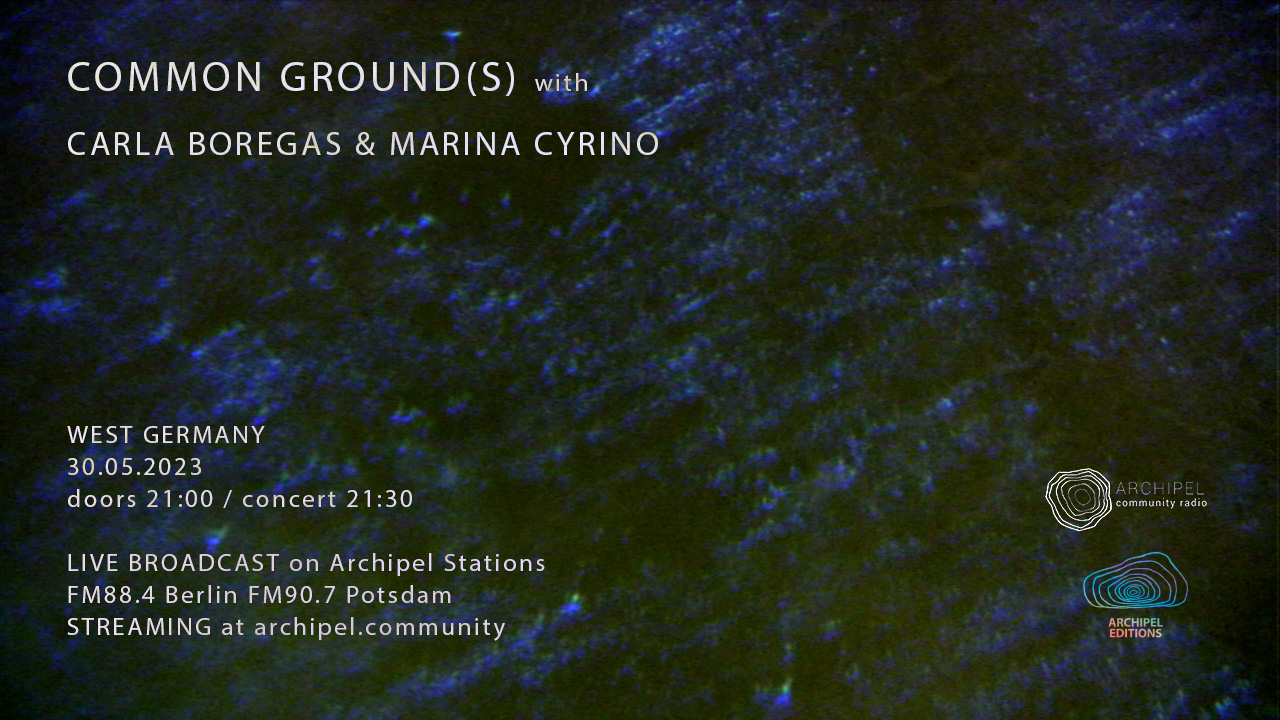 COMMON GROUND(s)
Common Ground(s) is a series of live concert / broadcast / recordings initiated by Archipel Editions and Archipel Stations community radio and curated by Niko de Paula Lefort and Tony Elieh.
On May 30th we present a duo improvising high tension and beautiful empathy between two forceful vibratory universes: the slow moving deep oscillating textural mesh of Carla Boregas synthesisers and the hyper-active hyper-detailed feedback extended flute micro-rhythmic output of Marina Cyrino.
Carla Boregas is a Berlin-based Brazilian musician and sound artist. Her practice is focused on the creation of sonic environments through the manipulation of synthesizers, field recordings and acoustic sounds with emphasis on texture, repetition and sensoriality. She works across the spectrum of composition, improvisation, performance and sound installation. She also collaborates with artists from dance, film and theater fields. Recently Carla released her debut solo album called "Pena ao Mar" on the Swedish imprint iDEAL Recordings.
Marina Cyrino is a Brazilian flutist and sound artist currently based in Berlin. Her flute playing is characterized by singular techniques developed through the use of inside amplification. The rhythmic use of the flute, the extensive use of objects and balloons attached to the instrument, and the use of disassembled flute parts are other striking elements of her playing.
Doors Open: 21:00 / Concert: 21:30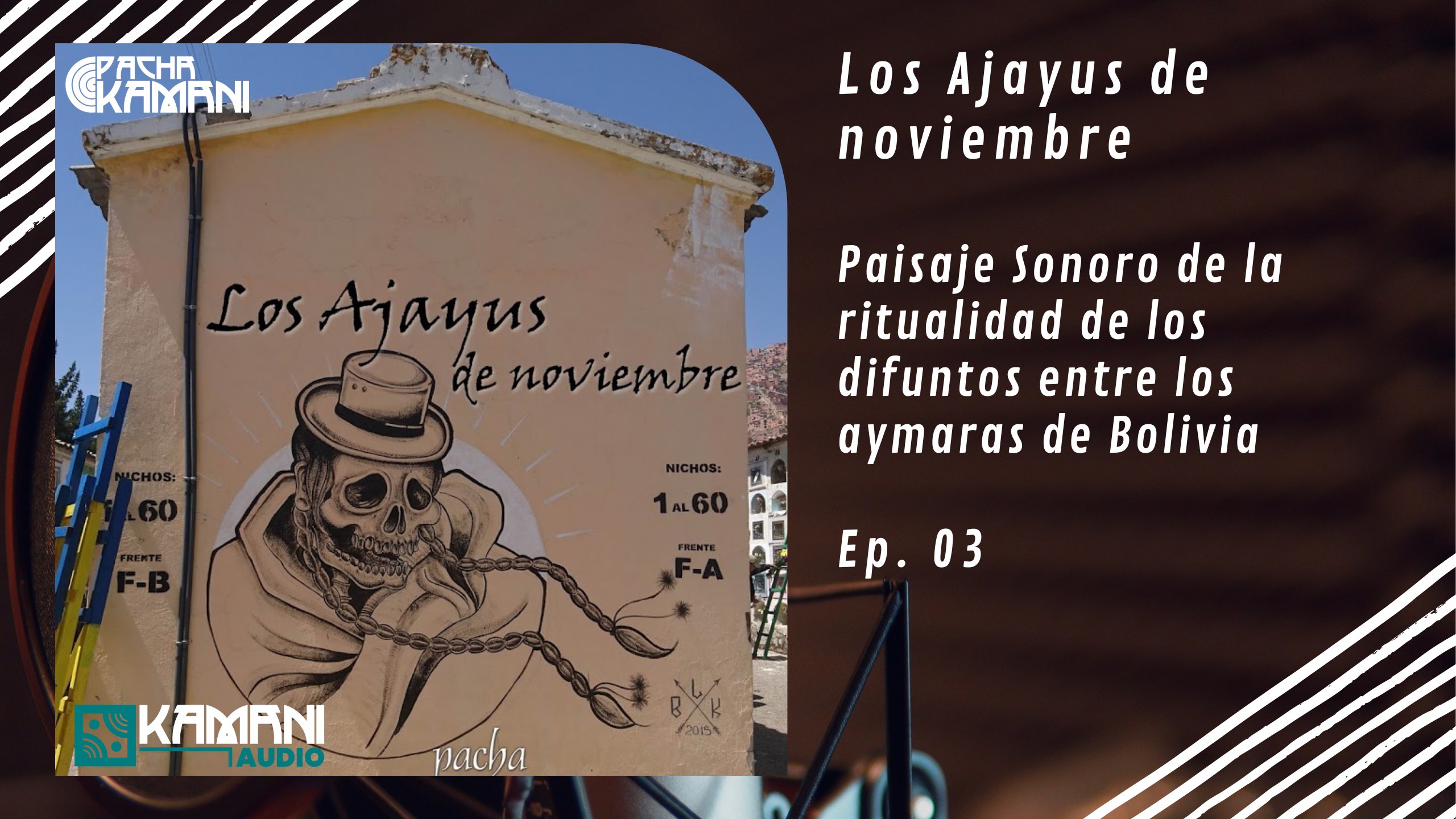 PachaKamani
Ep # 03. Los Ajayus de noviembre:
Paisaje Sonoro de la ritualidad de los difuntos entre los aymaras de Bolivia (11/2016)
Cerrando el mes de noviembre PachaKamani presenta este programa en memoria a nuestros difuntos. El programa número 03 de PachaKamani, inicia explicando el sonido en movimiento de tiempo y espacio, aspecto conocido con el concepto de paisaje sonoro. Ello se aplica al contexto ritual de "Todos santos" día del ajayu (espíritu) de los difuntos entre los aymara del departamento de La Paz. Se inicia con la escucha de una grabación realizada el 2 de noviembre de 2016 en el Cementerio General de la Ciudad de La Paz (Bolivia) con lo cual se presenta una muestra del paisaje sonoro ritual que combina la música del alma pinkillu, voces de los "dolientes", las oraciones para las almas de los difuntos y sonidos de la naturaleza en torno a las apxata.
Se realiza el análisis de cada una de las partes de esa grabación, en el siguiente orden:

Descripción de la ritualidad de los difuntos presente en el mes de noviembre, además como un tiempo de transición entre la época seca y de lluvias. Se habla de la concepción del sentido de la vida y la muerte para la cultura aymara, sus antecedentes históricos y una descripción del proceso de dicha ritualidad contemporánea (recibimiento, apxata y despacho de las almas).

Se escucha y comenta oraciones:

a) para las Almas de los difuntos adultos para los cultivos,

b) para los niños ("angelitos") para la lluvia, c) para las almas olvidadas.

Se escucha el Alma Pinquillo (muquni) de la provincia Omasuyos del departamento de La Paz (Bolivia).

"Las músicas que le gustan al alma", es decir se comenta la dinámica musical y diferentes formas musicales en el contexto urbano (yaraví, morenada, mariachi, wayños).

Se cierra hablando de la práctica ritual de los difuntos entre los aymara, y la ocupación de diferentes espacios urbanos, su relación con los ciclos climatológicos (lluvia), su dinámica cultural (pieza musical: Pinkillada de Macha, Norte de Potosí – Bolivia, interpretada por Zenón Mamani).
Dedicado a nuestros familiares y hermanos/as fallecidos/as.