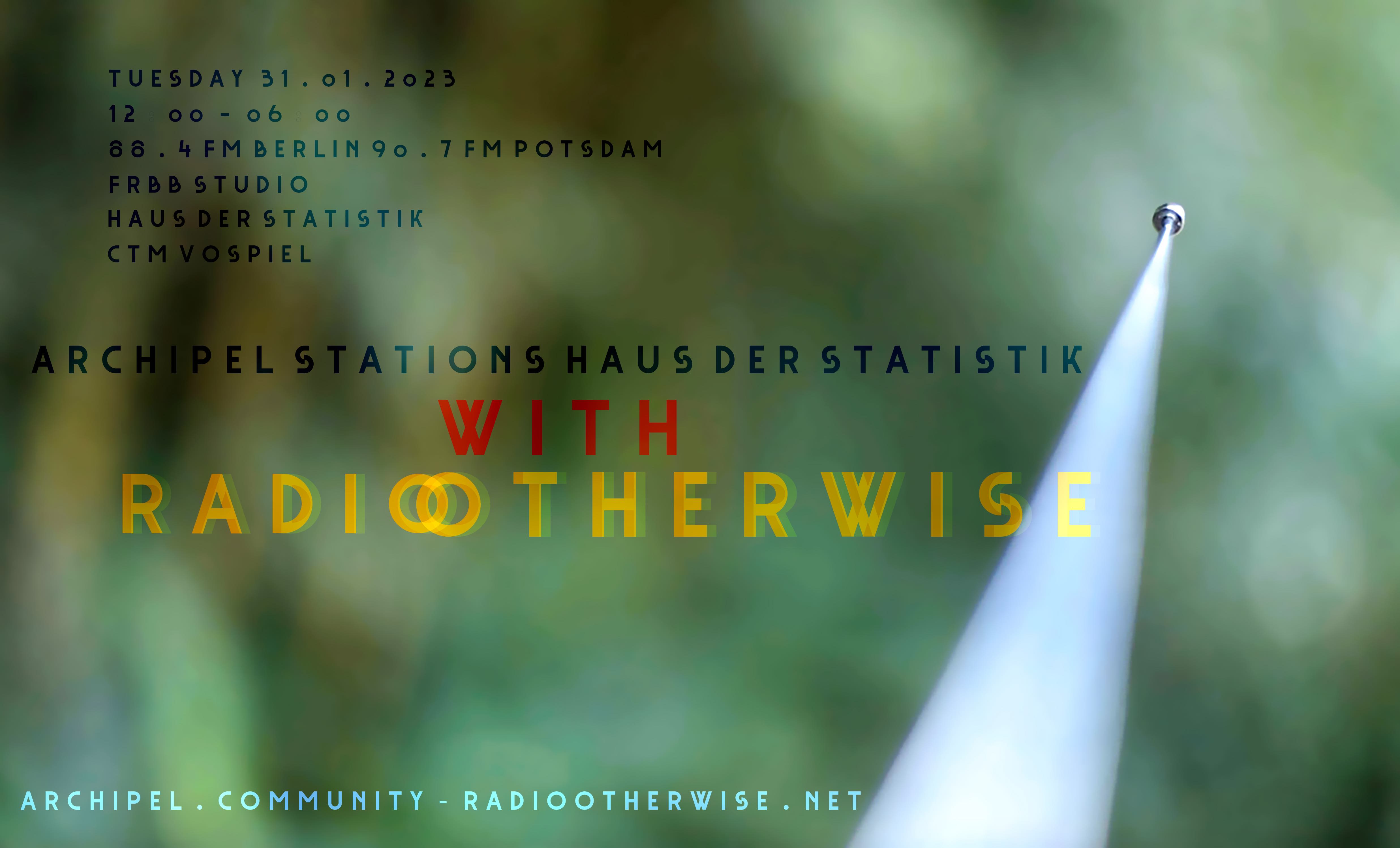 Archipel Stations Haus der Statistik 29.11.22
Our next 5th Tuesday long FM Broadcast online and on FM in Berlin 88,4 and Potsdam 90,7 on 29.11.22 between 12:00 until 06:00 of the following day. This time we will be "stationing" the studio from Freies Radio Berlin Brandenburg at Haus der Statistik in the center of Berlin. Contributios are welcome, anyone can get in touch to send pre-recorded contributions, do remote live transmissions, come by to the studio to play or do a live show or act, or just come to hang out. As always, we are ready to assist and support however we can for everyone to share their material and try stuff out.

SOUNDS FROM UKRAINE NOW & RADIO_MIX_KASSETTE
For the next months our weekly Tuesday 12:00 (CET) on 88.4 FM Berlin / 90.7 FM Postdam will host Sounds from Ukraine now, a radio show by Ceola Tunstall-Behrens and Clemens Poole in conversation with Ukrainian artists talking about art, music, and sounds from Ukraine. Their guests have been sharing their diverse experiences following Russia's brutal invasion of their home. In all their stories, one thing remains constant—the consistent and emphatic statement that to support them we must keep talking and sharing.

Our 2 am slot is back with Radio_mix_kassete. Radio_mix_kassette is a internet radio thats been around at mixcloud.com for some years with field recordings, sound experiments, jam session, interviews, dj sets and more. For Archipel Stations / 88.4 it edits artist interviews and mixed tapes under the umbrella Artist focus.
Sounds from Ukraine Now. EN, 60 Min
This week we speak with Kateryna Iakovlenko, a visual culture researcher based in Kyiv. Joining us from Vienna, AT, where she has been working as a researcher in residence, Kateryna shares her music and knowledge of Ukrainian cultural history, as well as the history of Russia's aggression in Ukraine during, and prior to, its most recent expressions in 2014 and 2022.

Playlist (all available on SoundCloud)
VL by Kateryna Iakovlenko
Obe Belye by Kateryna Iakovlenko
Glushkov by Kateryna Iakovlenko
VS by Kateryna Iakovlenko

Links:
Ukrainian Rage by Kateryna Iakovlenko
Links to local aid organizations by region:
Dnipro
Zaporizhzhia
Sumy
Kharkiv
Mykolaiv: rebelvol.com and fund supporting various local initiatives

credits: Ceola Tunstall-Behrens, Clemens Poole & Kateryna Iakovlenko