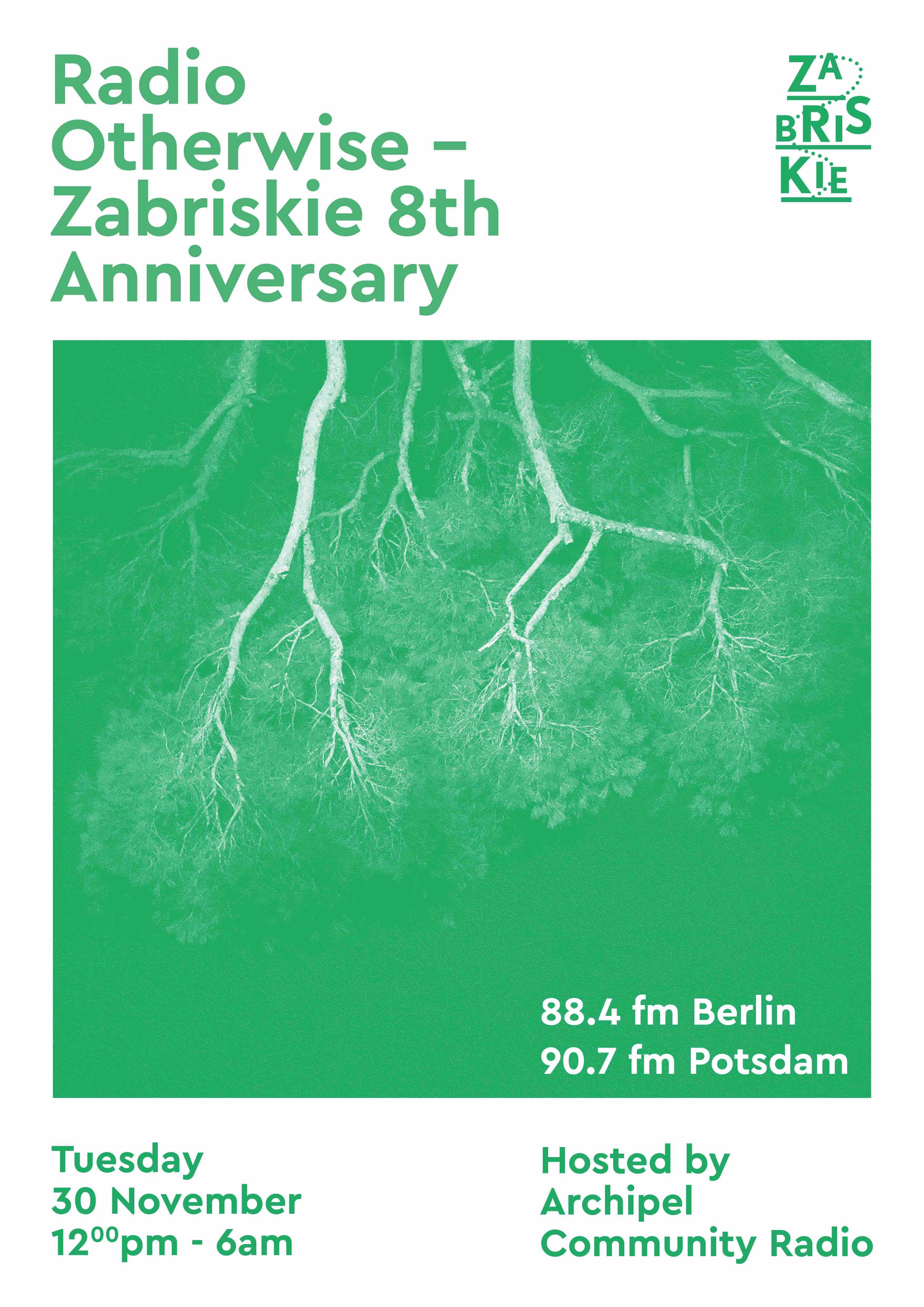 Radio Otherwise - ZABRISKIE 8TH ANNIVERSARY
On Tuesday 30.11.2021 from 12:00 until 06:00 of the following day (CET) we broadcast the third edition of our special program Radio Otherwise organized by Kate Donovan, Monai de Paula Antunes and Niko de Paula Lefort aka nikoLFO, together with other radio enthusiasts and special guests. We will stream live from the Zabriskie - bookstore for culture and nature, celebrating their 8th anniversary. The event can be heard on 88,4 FM Berlin / 90,7 FM Potsdam and here on our webradio. This episode presents contributions from Ela Spalding, Lorena Carràs, Jean-Marie Dhur, Giacomo Marinsalta, Nora Spiekermann, Kate Donovan, Ally Bisshop, Catherine Evans, Jann Petersen, Elisa Pieper (HOOOPS), Jasmina Al-Qaisi, nikoLFO, JD Zazie, Tony Elieh, Manfred Naescher, Alix Edwards and more.

Counterculture, Nature & Visions
Zabriskie is a specialised bookshop with a focus on sub/cultural and natural phenomena. It is almost like a private library – because we only present books that they personally value and like. You can find extraordinary things from the fields of natural history, nature writing, ecology and sustainability; gardening, self-sufficiency and DIY; underground music and film; visionary ideas and alternative ways of living; small press and artist publications; idleness and slowness; drugs and consciousness; walking, travelling and places; essays on philosophical and social issues; countercultural movements; strange and occult phenomena; phantastic, imaginary and speculative fiction; landscape and nature poetry.

Archipel Stations Community Radio is happy to host a radio event on the day they celebrate their 8th anniversary, specially because Archipel's first station was set at their shop 3 years ago on December 8th 2018. Also happy this event encompasses Radio Otherwise, an ongoing artistic research project motivated by the many knots which art, knowledge-making/sharing and communication encounter. Thinking and doing radio otherwise means focussing beyond purely anthropogenic transmissions, recognising relationality within the spectrum of more-than-human radio ecologies: the sun's rays, lightning strikes, meteors, the radio memories held in soil from radioactive pollutants. It also means to research and reflect upon alternative histories and forms of radio-making through its complex materialities and multifarious aural traditions; special attention is paid to the spatial qualities of radio and radio-making, from experimenting with nomadic outdoor studios, building small-scale transmission ecologies (Friz), to observing how the frequency spectrum is occupied in place of rich biodiversity (Krause).

Image credits: Lorena Carràs


Aural Maps. EN/FR 120 Min
A non-linear narrative exploration of Aurality throughout sounds, stories and interviews. Aurality is a concept describing the techniques, modalities, embodiments and effects of information 'carried on' or 'engraved in' sound waves and vibrations. The journey will lead us from outer space frequencies captured by giant telescopes to bioacoustics of our planet, from sound artists musique concrète to imagined ecosystems, from oral traditions to radiophony.
In this episode, live performances by JD Zazie, Tony Elieh and nikoLFO.
credits: Niko de Paula Lefort
Der geheime Kinosaal der Bibliothek von Alexandria. DE 60 Min
Premiere of the radio version of Manfred Naescher's recently released book "Der geheime Kinosaal der Bibliothek von Alexandria". Sound composition made in collaboraton with nikoLFO.
credits: Manfred Naescher
Living Ecology Library. EN 60 Min
Ela Spalding pays hommage to the Zabriskie book store reading from their shelves.
credits: various
Silent Witnesses. EN 60 Min
One ear on the ground listening to soil. Buried artefacts witnessing acoustic memories, worms composting speculative futures. A microphone records decay. Die Erde als Verstärker. Listening to your subconscious. Earth massen covering your body. It is heavy. When listening to soil hearing nothing is very very odd. What does silence mean?
credits: Elisa Pieper, Jann Petersen
Lost Rocks Readings. EN 60 Min
Readings by Ally Bisshop (Marble) and Catherine Evans (Copper) from 'Lost Rocks (2017–21)' - an ambitious, slow-publishing artwork by A Published Event (Justy Phillips and Margaret Woodward) – a library of forty three books, by forty six artists over five years; a unique seam of mineralogical and metaphysical telling unfolds. Together with Kate Donovan. https://lostrocks.net (https://lostrocks.net/)
Credits: Ally Bisshop, Catherine Evans, Kate Donovan, A Published Event.
Offener Kanal Europa / Die Stadt als Papier Denken. DE/EN 60 Min
The Offener Kanal Europa (OKE) is the first channel for Europacity: it is an artistic initiative to foster exchange and communication in a new and still unknown part of the city. Since the dominance of real estate investors is flagrant in the area, OKE explores possibilities for participation and personal initiative reclaiming public space, and questioning the speculative privatization processes affecting Europacity and Berlin.
In this episode we will present our fanzine publication « Die Stadt als Papier denken » published by ZZZNACK Publications, and supported by the Kreativfonds Bauhaus Universität Weimar. We'll review the last developments in Europacity, with a selection of music, interviews and readings relating the neighborhood and urban politics in the city.
credits: Giacomo Marinsalta, Nora Spiekermann
Offener Kanal Europa / Live in Europa City: Smart Art. DE/EN 60 Min
Offener Kanal Europa (OKE) produced three radio shows in July 2021, which you can finally listen to! We broadcast live from Europacity on Cashmere Radio.
The search for a public broadcasting location proved difficult, and so in the end we were guests of various people in the neighbourhood. In this episode called "Smart Art" we investigate which role art plays in Europacity. At first glance, this is not at all clear, which is why the OKE took a closer look at this connection.
credits: Giacomo Marinsalta, Nora Spiekermann, Alix Edwards
Philosophie der Wildnis oder Die Kunst vom Weg abzukommen. DE, 60 Min
Jean-Marie Dhur reads excepts from Baptiste Morizot's book "Philosophie der Wildnis oder Die Kunst vom Weg abzukommen", highlighting the beautiful connections developed with animal through reading their tracks.
credits: Baptiste Morizot, Jean-Marie Dhur, Lorena Carràs and various
Radio_mix_kassette. EN, 60 Min
Radio_mix_kassette is a internet radio that has been around at mixcloud for some years with field recordings, sound experiments, jam session, interviews, dj sets and more. For Archipel Stations it edits special on artists under the umbrella Artist focus.
credits: Berglind Agustsdottir and various
Radio of Birds and People. EN 60 Min
Jasmina Al-Qaisi and Kate Donovan in conversation about birds and radio.
credits: Jasmina Al-Qaisi and Kate Donovan
Zabriskie's mix tapes. 240 Min
Mix tapes curated by Zabriskie - friends and favorites.
credits: Jean-Marie Dhur, Lorena Carràs and various artists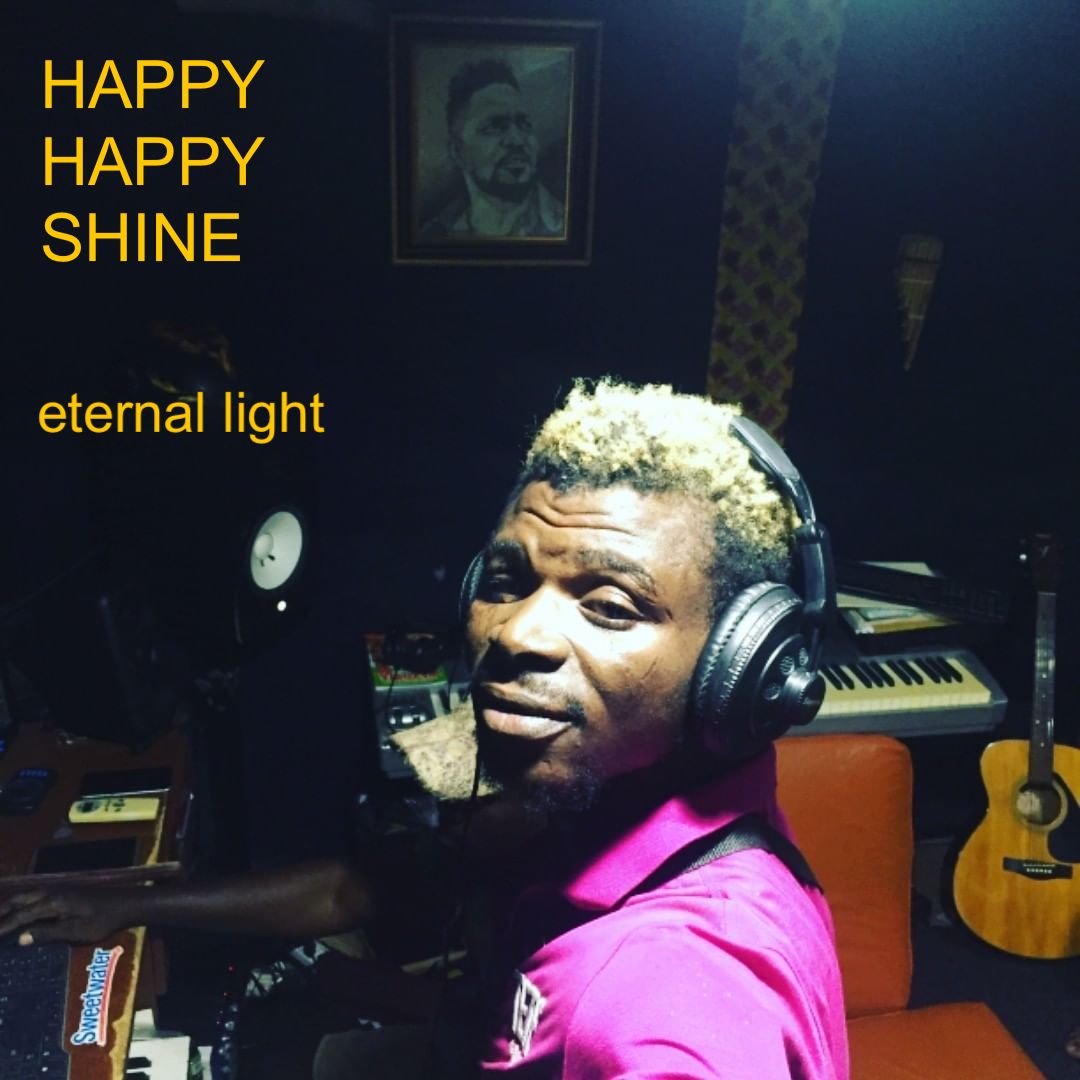 T-SHINE BABA
We would like to pay our respects to the family and friends of our dear T_SHINE BABA, Eniola Enitan, who passed last September 28th in Lagos, Nigeria. T-SHINE was the greatest radio enthusiast that Archipel Stations ever had the pleasure to receive contributions from. He brought our radio to unforseen, genuine and absolutely wonderful layers of sound experimentalism, poetry and community engagement. We can't avoid to be sad that he is gone altought we are positive his light will never go out and we will always be grateful he shared it with us.
WORO SI WORO
SORO SOKE
O SHA TI GBÓ
corner to corner, from our neighbourhood to your neighbourhood
Thank you, T-SHINE